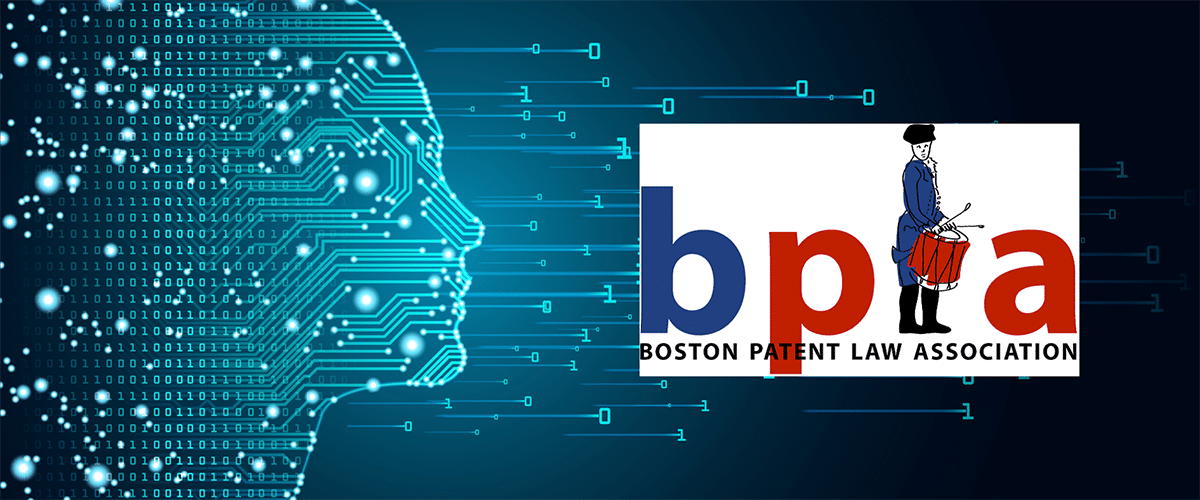 Boston Patent Law Association Selects Aptima, Inc. as 2021 Honoree for NETSTORM Patent
Patent hailed for process for developing AI systems and decision aids that can not only exploit complex relational data, but can adapt, shape, and proactively seek new information
On Wednesday, November 10, 2021, the Boston Patent Law Association (BPLA) recognized Aptima, Inc. as an Honoree for U.S. Patent No. 9,917,739 entitled "SYSTEMS AND METHODS FOR NETWORK PATTERN MATCHING" a/k/a "NETSTORM."
Also honored were the NETSTORM inventors: Aptima Fellows Dr. Georgiy Levchuk and Dr. Webb Stacy, and former employee, Charlotte Shabarekh, currently with MIT Lincoln Labs.
The award was accepted by Dr. Levchuk on behalf of Aptima. A transcript of his presentation about the NETSTORM technology appears below.
"If you work in organizational management, you would benefit from the software that could help identify the employees that can collaborate in novel ways leading to product innovation.
"If you work in the medical and biological sciences, you might be interested in understanding how the disease can spread in the population, or how the molecular and genetic interactions evolve — to identify biomarkers or perform therapeutic target discovery.
"If you work in advertisement, you might be interested in how stories evolve and engage the consumers.
"If you are a logistics planner, you want to understand interdependencies between different parts of the supply chain.
"If you are investigating financial crimes, you would like to make ambiguous transfers and invisible patterns of transactions, – obvious and visible.
"The technologies that can help human decision makers solve these problems are broadly referred to as network analytics. However, these technologies have relied on standard approaches for data gathering and organization. As the result, despite the hype of the network analysis and petabytes of collected data, the results produced by these technologies are relatively modest.
The Google maps that continue to send the driver through the roads she does not take;
the search engines that return the stories promoting information you already seen;
the business enterprises that suffer from difficult on-boarding;
products nobody wants to buy piling up at warehouses while retailers experience shortages of popular items;
the misinformation spreading on social media as a wildfire…
"These stories are too common and seem to suggest that something is wrong in the ways that network data analysis was done in the past.
"When we embarked on our research related to this patent, we asked two critical questions:
How are people so good at connecting the dots between seemingly disconnected events? AND
How are people so bad at being unable to connect obvious causes and effects?
"We then tried to understand these processes, and reverse-engineer them.
"In this patent, we discovered a way to incorporate relational information in a more rigorous manner. We identified a primary mechanism for connecting the dots, learning knowledge, and (also!) suffering from biases, – which involves passing the belief messages that encode hidden, implicit associations among variables that are observed and those that are inferred.
"Perhaps the main innovation of this patent is the discovery of a process for developing the AI systems and decision aids that can not only exploit complex relational data, but can adapt, shape, and proactively seek new information. These are the fundamental tenets for improving our future – helping us live, learn, communicate, and interact with each other and with technologies of tomorrow."