MINDWORKS PODCAST
HOSTED BY DANIEL SERFATY:
Welcome to the MINDWORKS Podcast! Join Aptima Founder and CEO Daniel Serfaty every other Tuesday as he talks a variety of guest, such as scientists, technologists, engineers, and others to explore how AI, data science, and technology are changing how humans think, learn, and work in the Age of AI. 
In his day-job as the CEO of Aptima, Serfaty explores how to improve the ways humans and machines can work together more effectively. The introduction of automation and AI is drastically changing the way many jobs are done. A recent study shows that perhaps as many as 30% of the human labor on the planet may have their jobs displaced.
"Rather than talking about displacement or elimination, I want to challenge us to be more constructive and talk about
transformation.
The paradox here is that the more we introduce AI, robotic, and automation into our lives, the more critical it is to deeply understand our evolving roles as humans."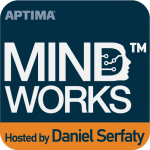 The MINDWORKS Podcast is available on Apple Podcast, Spotify, Buzzsprout, or wherever you get your podcasts!