Aptima, Inc. Awarded 2022 James S. Cogswell Outstanding Industrial Security Achievement Award
Company recognized third time for high standards in industrial security
August 1, 2022 – Aptima, a leader in human-centered engineering, announced today it is a recipient of the James S. Cogswell Outstanding Industrial Security Achievement Award. This is the third time that the company has received this prestigious award, having been recognized in 2007 and 2014.
For 2022, Aptima was one of only 26 facilities selected from a field of more than 13,000 cleared contractors.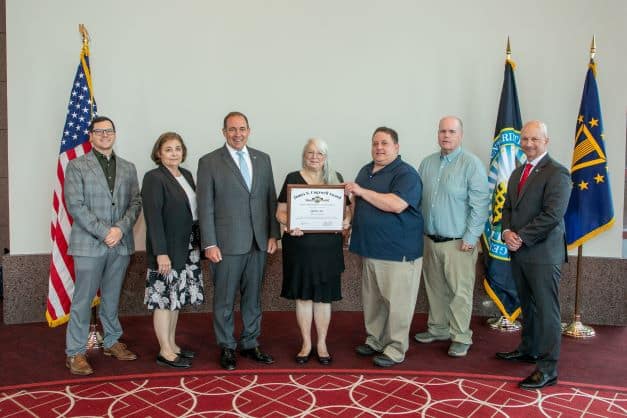 The Aptima security team receiving the Cogswell Award in Minneapolis, MN on June 22, 2022. From left to right: Matt Strusinski, Lisa Deming, DCSA Director William Lietzau, Dolly Hight, Joel D'Arrigo, Dr. John Feeney, and Assistant Director for Industrial Security Matthew Redding.
The Cogswell Award is the most prestigious honor the Defense Counterintelligence and Security Agency (DCSA) can bestow to cleared contractors. From the entirety of cleared contractors in the National Industrial Security Program (NISP), less than 1% are selected annually to receive this award.
Criteria are dependent on the principles of industrial security excellence. To receive consideration for the Cogswell Award, a facility must be nominated by their assigned Industrial Security Representative. That facility must have achieved two consecutive superior ratings to be considered for the award.
Once nominated, the facility enters a rigorous eight-month internal review process in which the DCSA national review team—comprised of regional directors and representatives from across DCSA—considers each nomination. The national review team vets all nominations with 57 external agencies, ranks them, and makes recommendations to DCSA senior leaders, who then submit the rank listings to the DCSA Director for final approval.
Media Contact:
Joel Greenberg
DCPR
joel@dcpr.com
202-363-1065 | 202-669-3639 cell
# # #