Disrupt or be Disrupted – 'A View from the Top: Disruptive Technologies That Will Transform Training'
This special session at vIITSEC 2020 brought together CEOs from several leading companies—from large, small, international, and woman-owned – to discuss the disruptive, innovative technologies that are solving challenges in the military, education, and larger workforce.
Daniel Serfaty, CEO of Aptima who moderated, kicked off the discussion asking the CEOs to single out some of the most transformative, 'game-changing' technologies.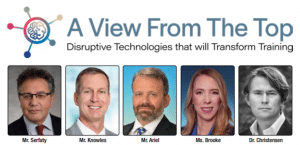 Marlo Brooke, CEO and Founder of AVATAR Partners, a woman-owned company, spoke of the enormous impact the combined use of AR, VR, and extended realities were providing both in training and on the job. As an example, Brooke pointed to the 90% reduction in training time to take a level 1 tech, who entered the service with no experience, to senior level 7.  She noted how augmented reality and AI, which put 'knowledge at the fingertips' of workers, had reduced troubleshooting times by 75%, eliminating errors in a way she had never seen with any other technology.
Mike Knowles, President of Cubic Mission and Performance Solutions, a company that put simulation on the map in the 1970's with its 'top gun' trainer, also pointed to huge gains, citing how the qualification of ship maintainers had been reduced from six months to one. In terms of disruption, he singled out Live Virtual and Constructive (LVC) training, which was supporting readiness through large force exercises, where "air, ground, maritime, cyber, and space were all coalescing into one" for the near-peer, multi-domain fight. Knowles credited the fast-changing technologies behind LVC, with advances in massive waveform processing, software-defined radios, and secure infrastructure, for taking a TR level seven exercise from five to seven years to inside of 24 months.
In addition to accelerating speed to proficiency and deployment, there was also the concept of disruption through agility and resilience to change.
Don Ariel, Chairman and CEO of Raydon Corporation, illustrated the point with 'mission reconfigurable trainers,' an open platform that could adapt to evolving military missions and training requirements at the point of need, which could 'wreck a business like a tsunami or hurricane.' Ariel explained how this reconfigurable training infrastructure for changing missions and logistical needs was an industrial combat multiplier for an Army that now craves disruption.
Serfaty, the moderator, switched his hat to CEO of Aptima, offering a perspective that turned the focus to the human. As an aerospace engineer interested in how people perform under uncertainty and stress, he pointed to the impact of AI and machine learning to better measure and understand the human, delivering more precise learning that could optimize performance. Data and intelligence could be used to "adapt the knowledge that you should acquire at that moment," not at the end of the year or the end of the day, but during the action.
Ulrik Christensen, CEO and Chairman of Area9 Group, provided a similar context from the medical world, where as a trained physician, his interest in why people make mistakes under pressure led to the development of simulators used for clinical decision-making and medical training. A major challenge in education, he noted, was not 'getting people to mastery' but how long it took. He highlighted how knowledge acquisition systems that personalize learning to the individual were cutting proficiency times in half and costs to one-tenth.
The CEOs shared a belief in the crucial role of data to help identify and fill gaps, and accelerate and improve learning, as workers face an unrelenting pace of change and information to perform their jobs.
When asked to identify the obstacles to adopting disruptive technology, the CEOs offered several. Knowles of Cubic mentioned the long-running challenges with acquisition, and the need to get technology procured and into the hands of the Warfighters as quickly as possible. He noted the positive progress being made with OTAs (Other Transaction Authorities) and other contract vehicles for speeding up prototyping to production.
Ariel of Raydon pointed to a larger obstacle in terms of human nature and the fear of change, the fear of of risk, and failure.  He suggested that the community embrace, and learn to anticipate and capitalize on disruption, rather than fearing it. Recalling how the cultural shock of 9/11 led to a realization to move faster, he posited that a Covid-19 world would influence and change how people think going forward.
Christensen of Area 9 Group observed that with the pandemic sending millions home from school and work, there was an opportunity to reconsider the role of education and create a reset of sorts. He noted that a massive investment in infrastructure could break down existing barriers to create a brighter future.
As to what the future might look like, Knowles suggested 'one simply had to walk the floor of IITSEC, where he related, he was continually amazed to see the innovation that was driving disruptive new technologies and their adoption.
Brooke of AVATAR spoke of clients' high level of readiness to accept transforming technologies, suggesting "we take the best of what we've done and fast-track these forward-thinking technologies" to deliver knowledge, see return on value, reduce cognitive load, and support successful missions where the Warfighter comes back safely.
In closing, Serfaty noted that despite the brutal sound of the word 'disruption,' that these advances—from AI and ML, to augmented and mixed realities—were indeed improving learning and performance and would hopefully make a vast new world of knowledge accessible to all.